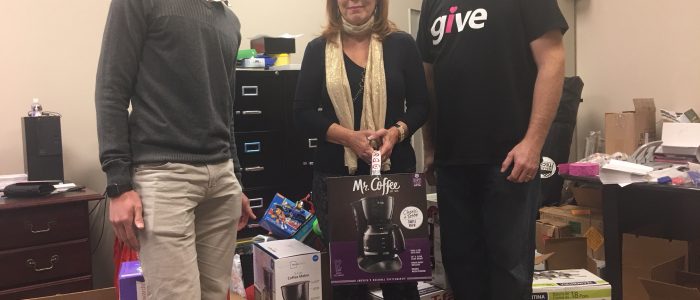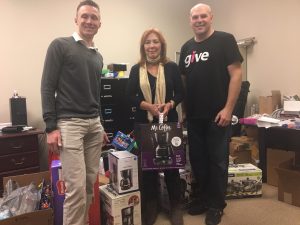 Microsoft's Alex Zisser and Tracey Cooley join ALIVE's Executive Director Maggie Menefee with Giving Tree donations before gifts were distributed to local domestic abuse survivors and their children.
ALIVE was overwhelmed by the generosity of the local St.Louis Microsoft team this holiday season. As a beneficiary of Microsoft's employee supported Giving Tree initiative, ALIVE provided Microsoft with gift tags listing client wish list items, and Microsoft transferred them to a virtual Giving Tree. Employees then selected tags and purchased corresponding wish list items, which included gift cards for necessities, small appliances, kitchen needs, towels, children's toys, games, art supplies, hats, gloves, baby items, and much more.
ALIVE provides programs restoring safety and peace to St. Louis area families impacted by domestic abuse; a public health and safety epidemic affecting more than 1 in 4 women and 1 in 7 men during their lifetimes. Children are often secondary victims, with an estimated 15.5 witnesses each year. Fortunately, programs like those offered by ALIVE can restore safety and promote healing, thanks to generous supporters like Microsoft. Their team delivered much more than simply gifts to ALIVE clients whom are the most struggling financially. These caring employees gave hope to families going through chaos and instability during the holidays.
ALIVE clients receiving Microsoft Giving Tree gifts put it best:
"The new towels and clothing for me were an unexpected treat during this very tough Christmas. When I saw the toys for my two kids, I burst into tears! Both of their birthdays are during the holidays and I had nothing to give my children. I may be broke, but I am not broken. Thanks to Microsoft for caring!" – Suzanne
"I am a single mom who works two jobs, and coffee is my small indulgence to keep me going. My coffee maker just died and I can't spend money on another right now. What an amazing surprise to receive a fancy new one from Microsoft!" – Natasha
"Thank you for making sure we are part of the celebrations during this special time of the year! The gift card for groceries is a small miracle to us! Hugs and kisses for the wonderful gifts and for making the holidays special! – Maria (who sent photos of her young sons playing with their gifts)
Microsoft's Giving Tree campaign not only creates these moments of joy for our clients, but Microsoft will also match the value of the gifts that employees gave by making a generous donation to support ALIVE's programs.
ALIVE's Executive Director Maggie Menefee said, "I have been and continue to be overwhelmed by the generosity of so many during the holiday season. Seeing the emotions of joy and appreciation in the expressions of clients picking up their gifts is a reminder of how devastating and cruel domestic violence is to women, men, and children. The real gift is the feeling that there is support and genuine care for another in need. We thank all of the donors, and please know you made a real difference in the lives of so many. Thank you."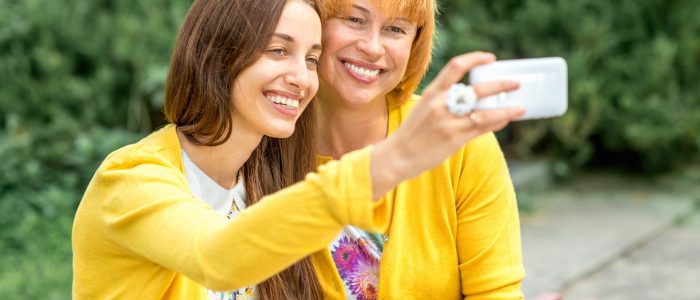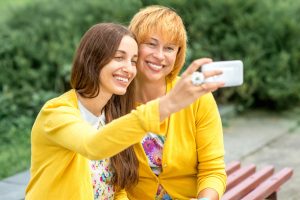 JILL
Jill received a call from the counselor at the high school her daughter, Lori, attended. Lori's grades had dropped and she had been very distracted. The counselor uncovered some issues at home that sounded like possible domestic abuse and gave Jill information about ALIVE. Because Jill's husband had never gotten physically violent, Jill dismissed it as irrelevant.
Shortly after, Jill read a news article about emotional abuse. The signs were nearly identical to her husband's controlling, blaming, and belittling behaviors. Jill called ALIVE to learn more and began counseling, which reinforced that her husband was responsible for his harmful actions and Jill was responsible for her own actions and reactions.
"I am eternally grateful that ALIVE's outreach included my daughter's school, and that the counselor there was able to connect me with their counseling program. After separating from my husband and his abuse, I am building a positive and healthy example for my daughter and a happy life for me." – Jill