Sunday, April 15, 2018- Deadline to vote for ALIVE to host Ginger Bay's Spatacular Event
Friday, April 27, 2018- Paint and Sip at Artzy Wallz etc. 
Tuesday, May 1, 2018- Give Back Night at Dewey's – U City
Thursday, June 28, 2018- ALIVE's Wine Tasting and Auction
Saturday, September 22, 2018- Pedal to Peace…Stay tuned for details!
Monday, October 8, 2018- ALIVE's 22nd Annual Golf Tournament and Auction…Save the date. More information coming soon…
Click here for more information and to register.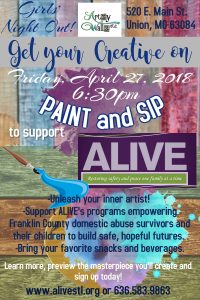 Join us to create your unique version of this stunning spring flower painting while you support ALIVE!
CLICK HERE to download flyer to your device or for printing.