June 22 through July 14- The Drowning Girls, presented by Fourth Wall Down
Thursday, June 28, 2018- ALIVE's Wine Tasting and Auction
Saturday, September 22, 2018- Pedal to Peace…Stay tuned for details!
Monday, October 8, 2018- ALIVE's 22nd Annual Golf Tournament and Auction
CLICK HERE for tickets.
CLICK HERE to learn more about Fourth Wall Down and The Drowning Girls.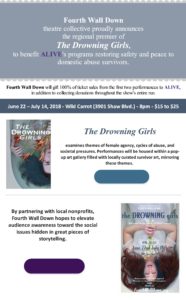 CLICK HERE or call 314.570.1373 to sign up, sponsor, or learn more.