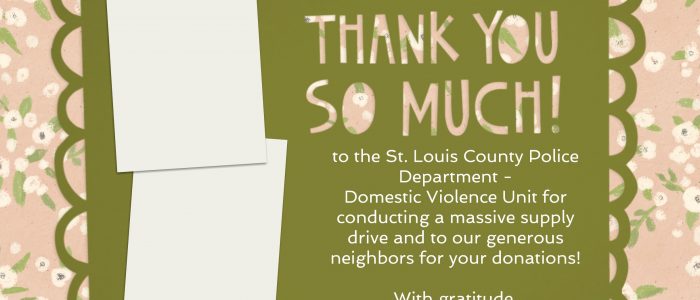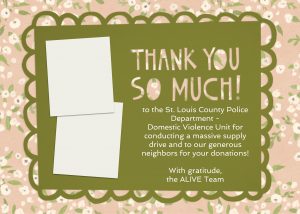 Law Enforcement Engages Our Community to Support Domestic Violence Survivors
In response to recent tragedies involving domestic violence (DV) in our area, the Domestic Violence Unit of the St. Louis County Police Department held a supply drive to help DV survivors and their children. Because families escaping DV often leave their homes suddenly and with little more than the clothes on their backs, the Domestic Violence Unit took the initiative to request basic supplies from our generous community. The response was overwhelming. Officers filled their vehicles with donated diapers, clothing, toys, and other basics, which they delivered to ALIVE. Families in the Nights of Safety shelter program and clients in need receiving other ALIVE services will gratefully use these supplies as they build safe futures.
THANK YOU to the St. Louis County Police Department – Domestic Violence Unit for going above and beyond to support families impacted by DV and to the many generous donors who made this initiative so successful. Acts of kindness like this make it possible for ALIVE to help restore safety and peace one family at a time.