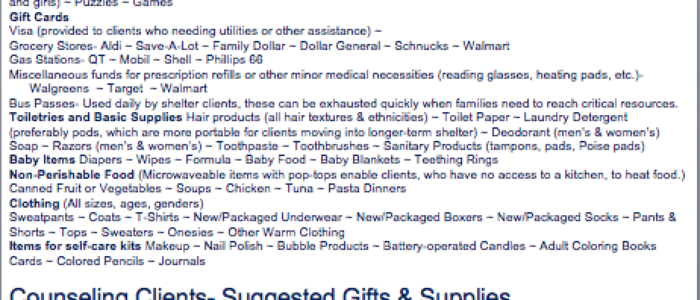 Did you know that many of the domestic abuse survivors ALIVE serves, as well as their children, often flee their homes to escape danger with little more than the clothes on their backs? Nights of Safety clients need personal supplies and simple meals during their stays. They may need bus passes to get to work or basic supplies or clothing which they left behind. Maybe injuries an ALIVE client sustained from physical abuse require medication.  Clients moving into into their own, abuse-free homes may lack dishes, blankets, or other basics. The needs and the reasons behind them are endless.
You can help with an in-kind or financial gift to ALIVE. Suggested donations are listed below, and you can download a printable flyer HERE.
Thank you for supporting ALIVE.