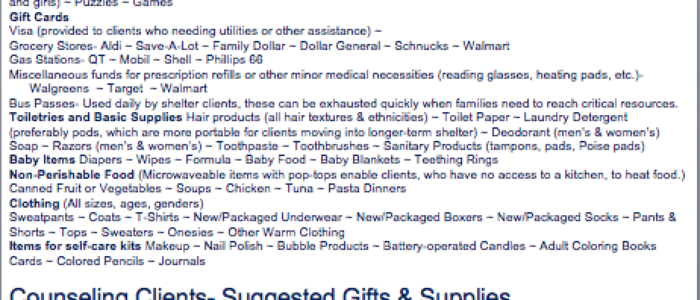 Thanks to our generous supporters for the overwhelming response to our Adopt-a-Family drive. Every client family who signed up for the program has been adopted and will experience a brighter holiday season!
Did you know that many of the domestic abuse survivors ALIVE serves, as well as their children, may not be a part of the program and would love a little extra help and hope, especially during this time of year? Perhaps they didn't feel they needed to request help, but are now struggling to make sure their children have a few gifts, or they may be lacking dishes and blankets in their newly rented apartment. Maybe injuries sustained from physical abuse require medication, the cost of which exceeds financial resources. New Nights of Safety Shelter clients, who have just left an abusive relationship, may need bus passes to get to work or basic supplies or clothing, which they left when they fled their abuser. The needs and the reasons behind them are endless.
You can help with an in-kind or financial a gift to ALIVE. Suggested donations are listed below, and you can download a printable flyer HERE.
Happy Holidays! Thank you for supporting ALIVE.